Onsite Chair Massage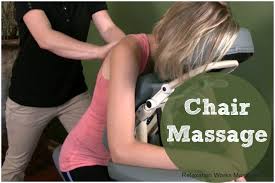 What is chair massage?
It is more than one of those vibrating chairs that you have to feed with money, although we love the ones at our studio!
But if you aren't at the studio, we can bring the chairs, not the vending ones of course, to your location. Chair Massage is convenient, budget friendly, beneficial, and effective! Onsite chair massage is manual massage therapy performed by a Licensed Massage Therapist in a specialized massage chair serviced in a small space that has no interference with surrounding activities.
This small space accommodates the massage chair, the therapist, and the client. A chair massage is performed over clothing and takes no longer than a coffee break—typically done in 5 to 15 minute increments. The massage primarily focuses on upper body muscles that are frequently stressed, tense, and overused.
Onsite Chair Massage: Great Idea for Health Events, Church Socials, Employee/Boss Day, Teachers Appreciation, Fundraisers, Seminars, Conventions, Workplaces, Bridal/Baby Showers, Anniversary/Birthday Parties, & MORE!
Help Yourself Onsite Chair Massage Rates:
Corporate Contracted Chair Massage:
Minimum 1 hour /Maximum 4 hours
*Number of therapists required based on number of guests (ex. 1 to 8 ratio covers 1 hour)
$50 per therapist an hour within 20 mile radius from Studio location -- additional $10 commuting fee per extra 10 miles outside of radius
Individual Chair Massage
Minimum 5 minutes/Maximum 15 minutes
Complimentary 5 minutes with $1 per each additional minute
Help Yourself also assists with non-profitable events such as health, educational, government, or religious. We will provide complimentary onsite massage services welcoming any gratuities.
Please feel free to contact us for any questions or consultations!